Do you need a professional printer that will make YOU look good?
Who We Are
Canadian Printing Resources Inc. is a commercial printer providing industry leading service and pricing to small businesses and major organizations in the trade. Our team consists of 35 dedicated employees and managers, and we operate from a 28,000 square foot facility in Toronto.
Joe Fiorillo, MBA, opened Canadian Printing Resources Inc. in 1985. As a business owner who deals directly with his clients, Joe focuses on ensuring great care is taken with each order to deliver a quality, on-time product that exceeds the customer's expectations. Joe is a working owner and deals with many clients, where a sale can range from a few hundred dollars to thousands.
"Our focus is on premium products and services at an affordable price, for both our new and existing customers."
– Joe Fiorillo, President
Print media, envelopes, stationery, folders, brochures and mailings make up an important part of our customer's brand development and marketing strategies.
We specialize in folders, flyers, laser sheets, and envelopes, pads from five sheets and up, reports, business cards, letterheads, brochures and custom die cut products. We have in-house prepress and bindery services, and we can take your order from conception to completion. Canadian Printing Resources takes initiative to uphold a green policy and we are proud to be FSC® certified.
Hours of operation are 7AM to 7PM Monday to Friday, with openings after hours or on weekends when required.
---
Printing For The Environment
What do our forests mean to you? They mean everything to us. Without trees and forests, there would be no printing industry. Trees play a huge part in our lives, from producing the oxygen we breathe, to providing habitats for the many creatures with whom we share this planet. It's only right that we do something to give back and limit our impact on the environment.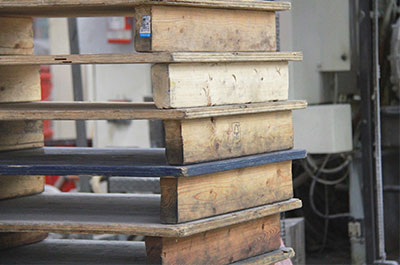 We are FSC® (Forest Stewardship Council) Certified.

We recycle all waste paper and boxes.

Paper-less fax system in effect.

We always purchase pre-used pallets, unless a client has requested new.

We use printed stock for set-up on our sheet-fed presses whenever possible.
Over 50% of our packaging cartons are pre-used, unless a client has requested new.

We use environmental services in the discarding of our chemical and ink waste.

We use vegetable-based printing inks.

Whenever possible, we rebuild and reuse pallets.